So... I arrived in Bangkok late in the day yesterday after what felt like an entire day of travelling. Everything had gone smoothly, I had met some interesting people to talk to, but I was also very tired (more on my journey in a separate post soon). So all I did was check out Khaosan Night Market near my hotel. It is a proper tourist trap which only assured me that I had made the right decision in only staying in Bangkok for three days. The weather is very hot, but I'd rather have that than freezing cold. And if you keep drinking water and putting sunscreen on you're fine... and don't need to revert to the use of tuktuks for even the shortest distances like many tourists do. The food is great, even though Google maps has proven to be rather unreliable when it comes to finding a particular place - it might be somewhere else or it might have been shut down. What IS cheap and easily available everywhere is fresh mango and mango based drinks and foods. I have already lost count of the number of mango smoothies/juices/shakes I've had since I arrived. Another huge favourite is mango with sticky rice and some coconut cream.
When I arrived I was surprised to see how calm traffic is. There IS a lot of traffic, especially as Songkran festival starts soon, but the only people honking are those on scooters. I have yet to see a single case of road rage, but I will admit that there is police everywhere. Anyways, I managed to cross a multi-lane main road with no problem at all.
This first blog post is just sort of a brain dumb for now. I am tired from walking around in the heat. I did meet some friendly souls in the form of buddhist monks and (admittedly very scrawny) cats. I try to stay away from the tourists and the locals trying to rope them in with all sorts of offers.
I tried taking some pictures with my phone, but as it is so hot the poor thing kept overheating...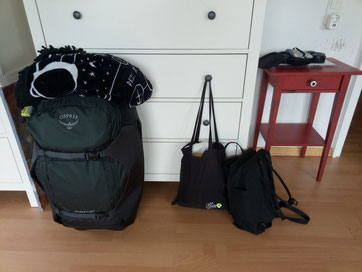 Here is what I ended up taking with me. Update on which things were useful and which weren't soon!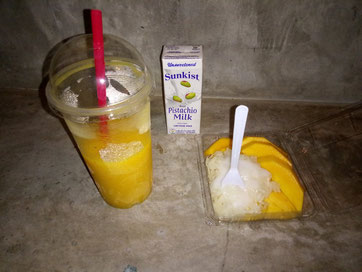 Interesting take on vegan milk-alternatives: pistachio milk (the only thing at 7-eleven that wasn't soy milk). And a mango Smoothie/mango with sticky rice combo from the night market (might get more of that tonight).
And this is where I had lunch today - super tasty, very spicy, tad bit overpriced for Thailand, but I'm guessing that's because it is in a touristy area. Makes me wonder what prices are gonna be like in Chiang Mai.
And finally some random impressions from today. As I said, my phone kept overheating so I wasn't able to take many pictures.